Tenerife weather<!-Weather in Santa Cruz De Tenerife, Spain on your site - HTML code - weatherforecastmap.com -->
It's the number one reason why people choose to holiday in Tenerife, and for most of the time the weather suits most people perfectly but just like any where else, there can be bad or extreme weather in Tenerife.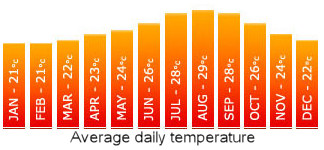 As you can see from the graph on the left, Tenerife doesn't have big changes in temperature between one season and the next.
During July, August and September, Tenerife is usually at its hottest and temperatures can and do exceed what are comfortable for some. Occasionally a Sirocco will blow over the island bringing very warm air carrying sand particles from Africa.
Once the Sirocco stops blowing, the sand remains in the air for days, trapping heat and raising the air temperature. This is called a Calima.
You are unlikely to see any rain during your holiday if you stay in the south throughout any of the summer months. Even during the winter months, there are very few days where it rains. December and January can bring significant amounts of rain in very short periods of time. This can lead to some short term and temporary flooding problems.
During the winter months, holidaymakers can easily top up their tans on the beaches, yet higher up the mountain you will often be able to see the snow capped peak of Mount Teide. It's a beautiful sight and one which demonstrates the diversity of Tenerife quite well.